Written by Charlie KaufmanDirected by Michel GondryCast:
Tim Robbins
,
Patricia Arquette
,
Rhys Ifans
, Miranda Otto •
Casting by:
Jeanne McCarthy •
Director of photography:
Tim Maurice-Jones •
Music by:
Graeme Revell •
Film editing by:
Russell Icke •
Costume designer:
Nancy Steiner •
Production designer:
K.K. Barrett •
Produced by:
Anthony Bregman, Ted Hope, Spike Jonze, Charlie Kaufman
Studio:
StudioCanal, Good Machine •
Distributed by:
Fine Line Features •
Country:
United States/France •
Runtime:
96 min •
Language:
English/French •
Release date:
April 12, 2002 •
Budget:
US$6 million •
Box office:
US$695,876 (domestic)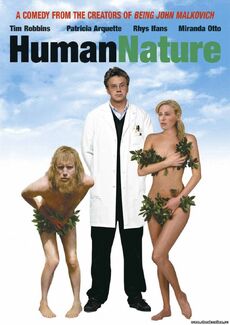 In the interest of civilization... conform.
—Tagline
Human Nature is a 2002 film directed by Michel Gondry. This French-American comedy/drama marked the first collaboration between Gondry and screenwriter Charlie Kaufman. It was Gondry's feature debut.
The movie starred Tim Robbins, Patricia Arquette and Rhys Ifans in the story of a scientist who discovers a man born and raised as an ape in the wild. It is nearly entirely told in flasbacks while each main character tells their story to others in different contexts.
A box office failure, Human Nature received substantially less praise than Kaufman's previous effort, Being John Malkovich, becoming Kaufman's first and so far only critically panned film. Many critics considered the film ineffective and forced, though some found it a clever, whimsical satire.